The festive season is once again upon us as we approach December. As such, it's time to bring out those Christmas lights (or purchase new ones!) and hang them around the house. When it comes to hanging Christmas lights on your roof or the exterior of your house, it's always important to think about your own safety first and your property's safety second. This is especially true if you're going to be climbing on to the roof of your home.
To help you out, we've put together 7 safety tips for hanging Christmas lights on your roof.
Don't screw in or nail light strings into the roof
Sounds obvious, but you don't want to be damaging your roof by penetrating the roof membrane with nails, screws or staples.  Once removed, these penetrations can cause more long-term issues than you might realize.
Test your lights before hanging them up on the roof
Before you climb up on a ladder and start hanging up your lights, make sure you test them out first! This is going to save you a lot of time and hassle should some of the lights be broken or faulty. This will also ensure that there are no shortages or potential for damage should the lights be faulty or malfunctioning.
Watch where you walk especially if you have a tile roof
A tile roof is sturdy, but not designed to be stepped on. Watch where your feet go and stick to the overlaps. Ideally, you'll want to do this when the roof is dry and there's plenty of light so
that you don't risk cracking tiles or slipping.
Fasten outdoor lights instead of using nails and staples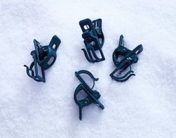 A lot of people consider stapling or nailing their lights to surfaces, but the best option is to simply fasten them with something like a zip tie or clip. This is because stapling or nailing might accidentally break the sheathing of wire, causing it to short. Adverse weather could also cause the insulation to wear away when it rubs against sharp items like staples.
Watch where you lean your ladder
This is general safety knowledge when climbing on your roof but make absolutely sure that you're watching where you place your ladder. Be careful not to crush or scratch the gutters with your weight on the ladder and make sure it's stable against whatever surface you lean it on.
Set your ladder on a flat surface like your driveway and ask for help holding it
Similarly, make sure your ladder is placed firmly on flat ground. You also want to ensure that there's someone at the other end holding the ladder firmly so that you can climb up with confidence. To test the proper angle, put your toes up against the feet of the ladder and extend your arms completely. If you can touch the rungs with your fingertips, the angle is correct.
If you're tethering something like an inflatable, use a sandbag to anchor it
While not exclusive to Christmas lights, if you're planning to tether something on your roof, then you'll want to ensure that you use a sandbag or something heavy to anchor it instead of stapling, nailing or screwing. This will prevent you from damaging your tiles or roof.
We hope you found our list of safety tips for hanging Christmas lights on your roof helpful. If you have questions, please give us a call at (805) 523-2550 or if you'd like some additional tips, you can also read "The Dos and Don'ts of Holiday Decorating."